31 August, 2021
SRI LANKA INSTITUTE OF NANOTECHNOLOGY – SLINTEC
Our Member Spotlight series is back after the summer break. In this issue, we speak with Dr Nareshkumar B. Handagama, Chief Executive Officer at the Sri Lanka Institute of Nanotechnology (SLINTEC).
Welcome, Dr. Handagama. SLINTEC is the first public-private research institute in Sri Lanka, with a main focus on nano and advanced technology. Can you tell us a little more about its history and mission?
SLINTEC came into existence in 2009 at the initiative of the Government of Sri Lanka. It is the first private-public research institute in the country, the result of a partnership between the Ministry of Skills Development, Vocational Education, Research & Innovation, and a number of private sector organizations including MAS Holdings, Brandix Lanka, Camso Loadstar, Dialog Axiata and Hayleys, later joined by Lankem Ceylon, LOLC, and Brown & Company.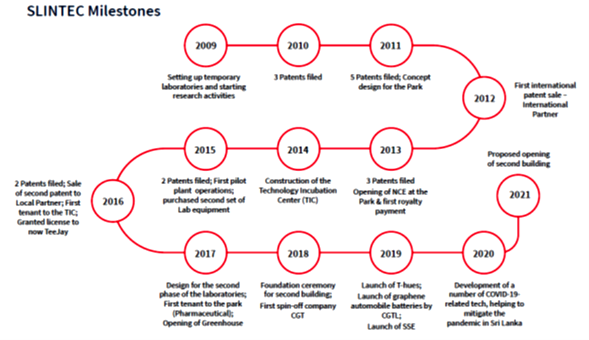 The very idea of establishing SLINTEC was to incorporate the synergies of both public and private sector to enhance the country's research infrastructure, and to contribute to economic growth through innovation: the government would provide the laboratory infrastructure to conduct research, with the private sector partners assessing the market and guiding the research direction; their involvement would also encourage local companies to engage in R&D. Our mandate is to help build a world-class R&D center for nano and advanced technologies, including a nanotechnology and science park for R&D and commercialization; to make products more competitive through nano and advanced materials applications; and to add value to the Sri Lankan mineral sector by showcasing the benefits of coupling minerals with nanotechnology.
Your work focuses on addressing some of the most pressing challenges for Sri Lanka: what are those, and how does the Institute's work contribute to solving them?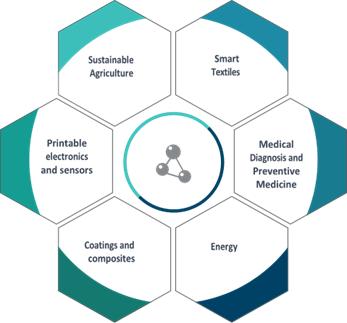 We have focused all our resources on creating technologies that will address several urgent issues confronting emerging nations such as Sri Lanka: these include affordable food security, safe drinking water, affordable and clean energy, sustainable economic development, and, more recently, detection and prevention of COVID-19 [more on that below]. With the expertise we have now gained, we intend to also embark on new research areas relevant to the development of the industrial base in Sri Lanka within an internationally competitive landscape.
SLINTEC's areas of activities include medical diagnosis and preventive medicine; can you give us an overview of the work you have undertaken in the context of the COVID-19 pandemic?
As an innovator, we increased our R&D activities to lead the battle against COVID-19 in a number of ways, including:
Producing swabs at a time where the country had limited stocks and supply issues, with over 350,000 sample collection kits produced so far;
Repurposing staff and facilities to develop cost-effective diagnostic test kits; in collaboration with the University of Sri Jayewardenepura, we successfully demonstrated the use of loop-mediated isothermal amplification PCR, coupled with reverse transcription (RT-LAMP), as a robust method for SARS-CoV-2 detection. This technique is four times faster and cost-effective than the standard PCR technique, and gained SLINTEC a semi-finalist place at the X-Prize COVID-19 Challenge;
Developing anti-microbial nano-coatings. The first one is an epoxy-based coating that can be applied on surfaces without modifying their appearance, and is now used on book covers and stationery; the technology is exclusively licensed to Atlas Axillia and is the first co-branded SLINTEC product. Another is a water-based PU coating which can eradicate micro-organisms on the surface treated, as well as the surrounding air, and whose protective effect can last up to several months. This technology is also exclusively licensed, to Multilac, with the active material manufactured by SLINTEC.
As we know, it is not always easy to successfully bring nano applications from the lab to the market. SLINTEC has a Nano Commercialization Arm addressing this challenge – can you tell us more about it, including the Startup Engine?
We focus on both public good research, and research driven by market demand and targeting commercialization. To this end, our Business Development and Technology Transfer teams work in parallel with the scientists. It should be noted that a successful laboratory experiment or prototype cannot always be scaled up to market level, that is the nature of scientific research. Nevertheless, we manage this innovation process through an adaptation of NASA's Technology Readiness Level (TRL) approach. The SLINTEC Startup Engine (SSE) is Sri Lanka's only platform for scientific innovation-based startups. A company usually needs a large investment to start a project or business in material engineering or material science: we support this work by providing them with cutting-edge facilities, the latest analytical instruments, and our science park. We also provide mentoring services including assistance in developing a business proposal and guidance for technology valuation and IP management. We have two schemes for entrepreneurs, the SLINTEC Accelerator allocating SLINTEC-originated projects to entrepreneurs, and the SLINTEC Incubator for ideas generated by start-ups.
And for our final, non-nano question… Sri Lanka has a thousand-year history. Hoping that we will be able to travel again soon, what would be your must-see recommendations for someone wanting to discover the country?
Sri Lanka is called the Pearl of the Indian Ocean and hosts eight UNESCO World Heritage Sites. If you are more of an outdoor person, beaches like Hikkaduwa are a surfer's paradise and the Udawalawe, Bundala and Yala national parks are great for elephant-, bird- and leopard-watching respectively. If history is more your thing, you might want to go for the ancient port of Galle, an entirely-preserved walled town with its XVII century seafront fort; the ancient capital Kandy, the site of the sacred Buddhist Temple of the Tooth Relic; and the Sigiriya fortress, a rock formation carved and transformed into a royal palace about 1,500 years ago, complete with a city complex and water gardens. Lovers of 80s music might have already seen these sites, as the music video for Duran Duran's Save a Prayer was filmed in Sri Lanka!
All images courtesy of SLINTEC. © 2021 SLINTEC. All rights reserved.