NIA regulatory and open webinars
Nano in Action: NanoCompositites - 19 Mar 2019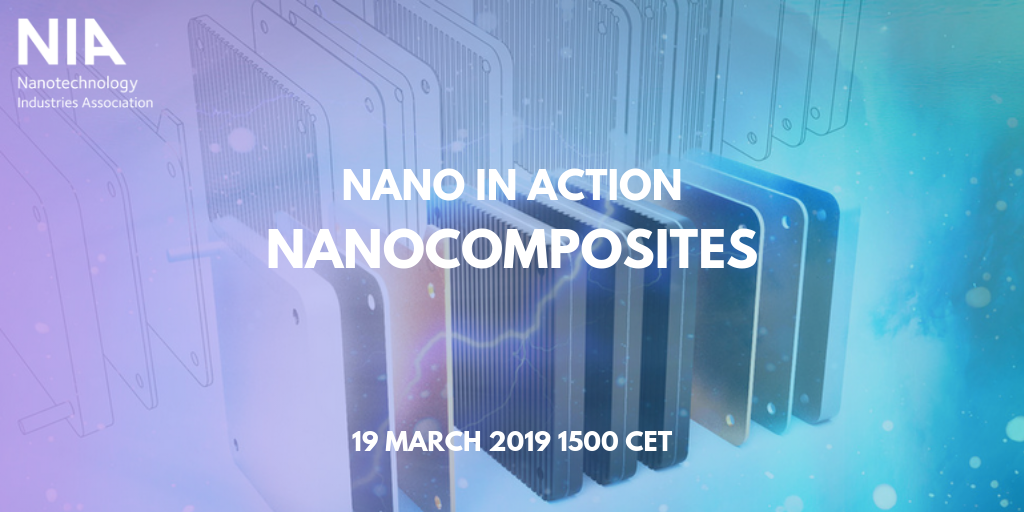 This webinar takes a look at opportunities and applications of nanomaterials into composites before hearing from NIA Members involved in nanocomposite development: Conventive Composites (UK), BNNano (US) & Pardam Nanotechnology (CZ).
WATCH HERE.
Chemspec Nanopavilion 2019 - 6 Feb 2019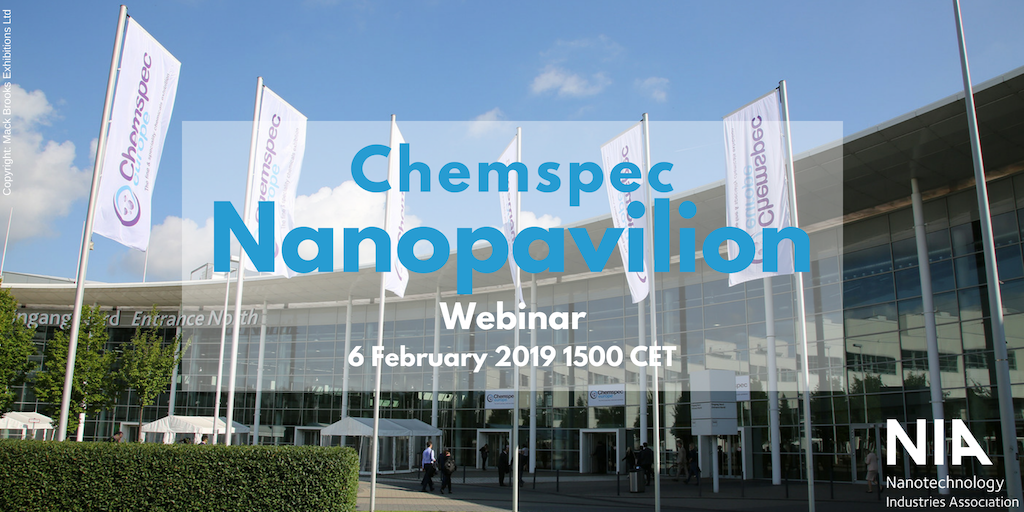 Meet our participants in the 2019 Chemspec NanoPavilion. Celluforce, Cerion, Chemycal, Yordas and Vito presented themselves and invited you to visit the NanoPavilion at Chemspec on June 26-27 in Basel. WATCH HERE
Nano in Business: Commercialisation of nanomaterials - 24 Jan 2019
Hear from two commercial nanomaterial producers about their business models and the international commercial drivers that shape their work:Cerion (US) & VSParticle (NL).
WATCH HERE.
Nano in Action : Nanomaterials in the textile sector - 15 Nov 2018
Webinar dedicated to the application of nanomaterials into textiles. Presentations  from the Nonwoven Innovations Research Institute, RAS AG and the Nanotechnology Industries Association (NIA) .
WATCH HERE.
Regulatory Priorities - 11 Oct 2018
Hear about the latest news on nanomaterials definition, REACH Annexes, the OECD Malta project and latest news on nanowaste management and transport.
WATCH HERE.
Nanomaterials within REACH - 3 July 2018
This regulatory priorities webinar presents the position of nanomaterials with Reach Annex updates from April 2018 and the potential impact for companies in nanomaterials development.
WATCH HERE.
Project webinars
Project Webinars
PATROLS project review  - 12 Dec 2018
Short interview with Professor Shareen Doak (University of Swansea), PATROLS project coordinator, introduces the project, summarising achievements during the first 12 months and looks ahead to priorities for 2019.
WATCH
HERE.
Meet SmartNanoTox - 29 Nov 2018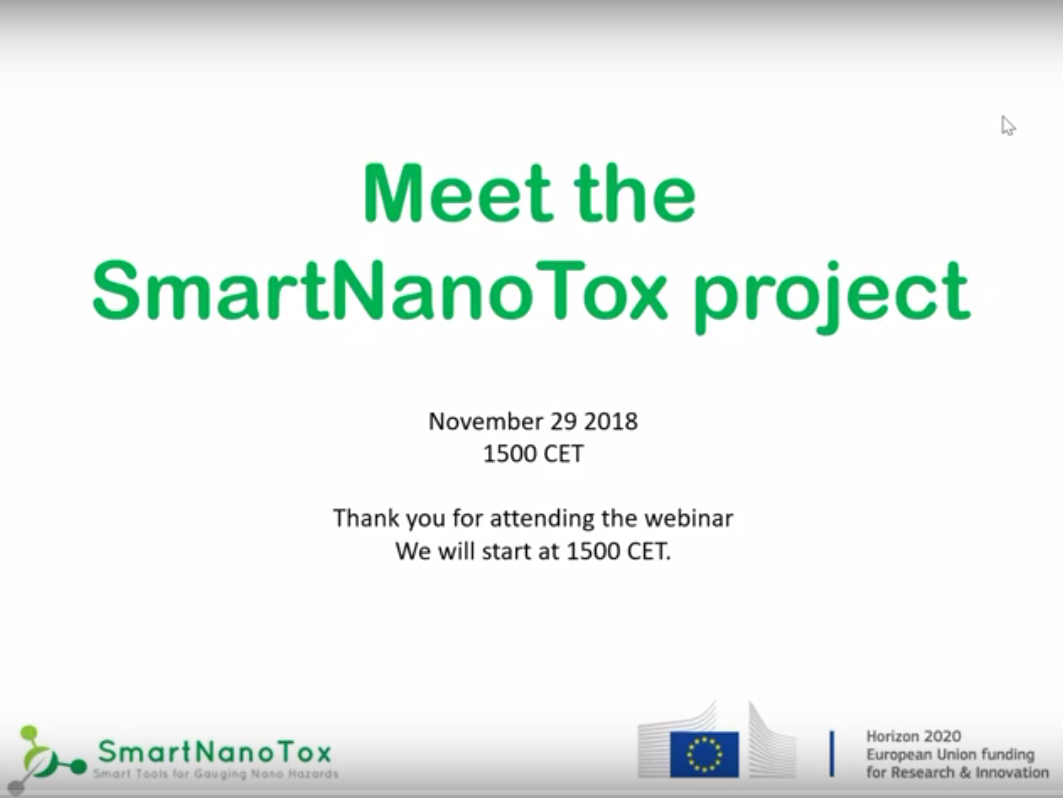 Vladimir Lobaskin (University College Dublin) and Ulla Vogel (NRCWE) introduce the H2020 project SmartNanoTox and its work within AOPs linked to nanomaterials inhaled exposure. WATCH HERE.
Introduction to the PATROLS project - 5 July 2018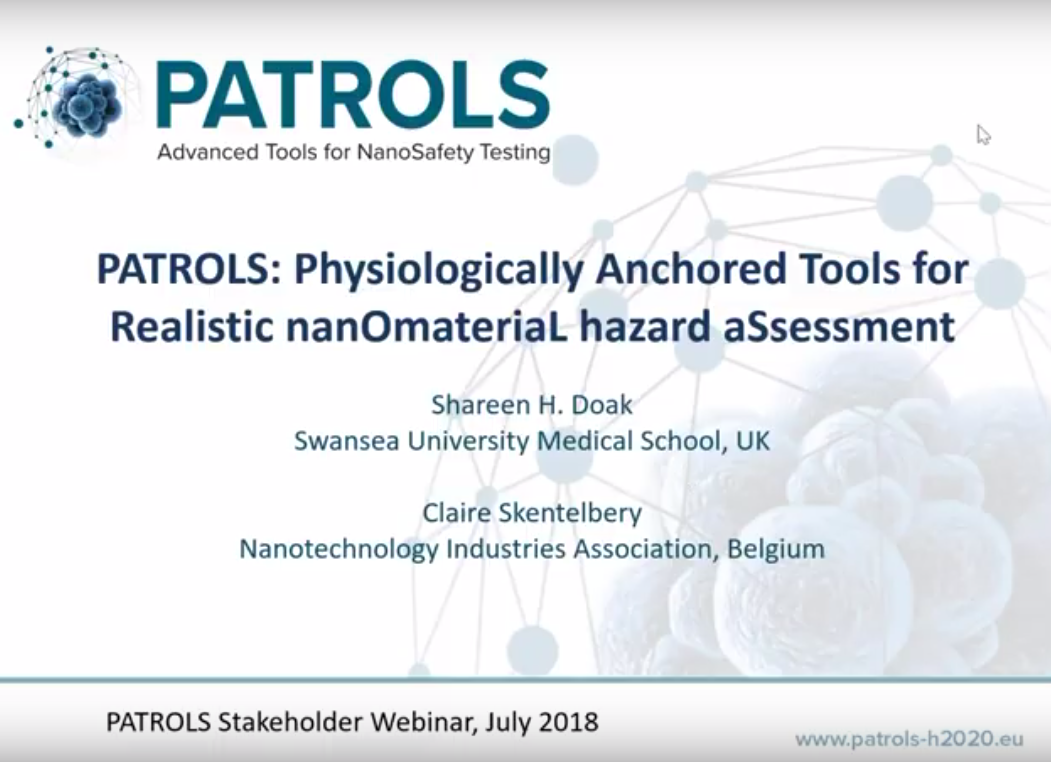 This 30 minute webinar introduces the scientific drivers behind the PATROLS project, its scientific aims and activities plus the potential impact for industry, scientific research, regulators and consumers.
WATCH HERE.